MAKE IT CUTE
Parties
Say "aloha" to summer with a luau-themed party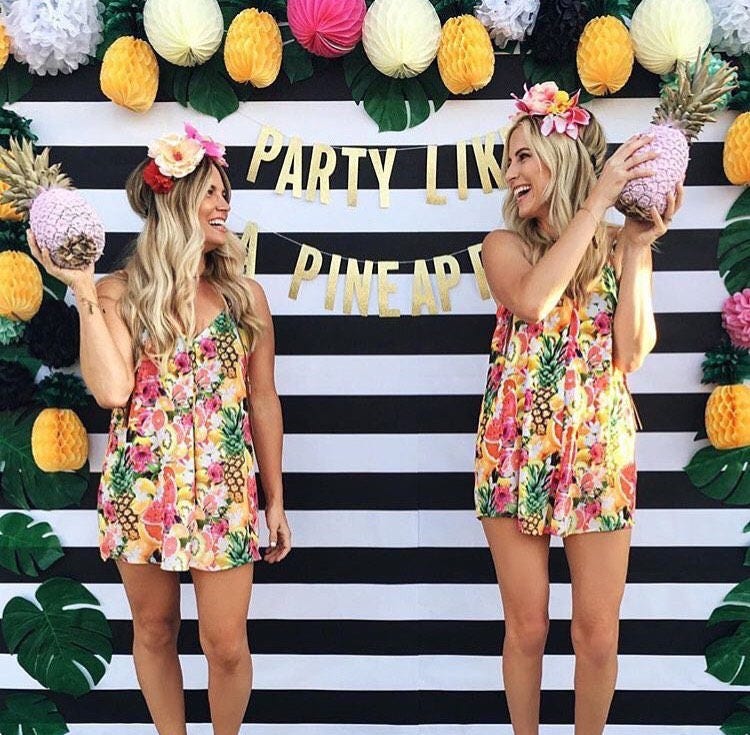 Your backyard end-of-school cookout just got a majorly tropical makeover with this luau party. Gather up all your friends (boys allowed!) and get hyped for the sunny months to come.
Location! Location! Location!
Create those carefree beach vibes by parking your party poolside. If you don't own a pool or belong to one, no worries—set up the sprinkler in the backyard or fill up your old kiddie pool.
Set the scene.
Decorations are key: You can deck out your yard with these painted pineapples, pink flamingoes, paper flowers, blow-up palm trees and tiki torches. Also, snazz up your kiddie pool with floating flowers to give it the ultimate tropical vibe. Throw a couple of beach balls in the pool, a tiny umbrella in each drink, a grass skirt around everybody's waist and a lei around everybody's neck...and you're good to go.
Let the games begin.
Tell everyone to come in their bathing suits (water balloons and squirt guns are a sure-fire way to have fun!). Out of the water, organize a hula hooping tournament or a limbo competition.
Go kebab crazy.
Food is an easy way to capture your theme and supply some killer grub, so go for Hawaiian fare like kebabs. Fast and super yummy, you can skewer any meat and any veggies like peppers, squash, zucchini or pineapple. Bite-sized food, what's not to love?
Don't desert the dessert.
With a luau-themed party, the dessert opportunities are endless. Spruce up your go-to brownies by cutting them into rectangles and making crazy tiki faces. If you are feeling adventurous, try mini pineapple upside-down cakes.
Get fruity.
Bust out the blender and mix some fun frozen drinks. Find recipes online for yummy fruit juice blends and suberb smoothies that your guests will love. Plus, nothing says tropical destination like a virgin pina colada.
Have you ever thrown a luau? Let us know how it went below!
Like this? You'll love these, too...
+ Here's exactly what you need to know about summer flings
+ The beauty trends that will add some sizzle to your summer
+ How to love your body in a bathing suit
Photo credit: Etsy.