MAKE IT CUTE
Parties
Your guide to the *ultimate* Galentine's Day bash
Valentine's Day is less than one week away and whether you have a cutie on your arm or not, there's no reason to fret. Grab all of your girlfriends and celebrate your inseparable bond. Because what's better than having only one valentine? Having tons of GALentines, of course. Get *super* excited for February 14th by pulling out all the stops and hosting a Galentine's Day party even Leslie Knope would approve of.
Make a grand entrance and set the mood for this fabulous occasion by setting up a luxe backdrop for selfies. Layer different colored streamers to add dimension and interest. It'll totally look glam and profesh.
Cover your table to prevent a big mess from all the fun by throwing on a white plastic tablecloth. You can take a Sharpie and draw X's and O's to create a trendy, Insta-worthy setup. And don't forget the ultimate party accessory—balloons! Grab a few oversized ones and fill them up. Then, instead of attaching a ribbon, add a string of tassels. The weight from the tassels will weigh the balloon down, so you don't need to worry about them floating away.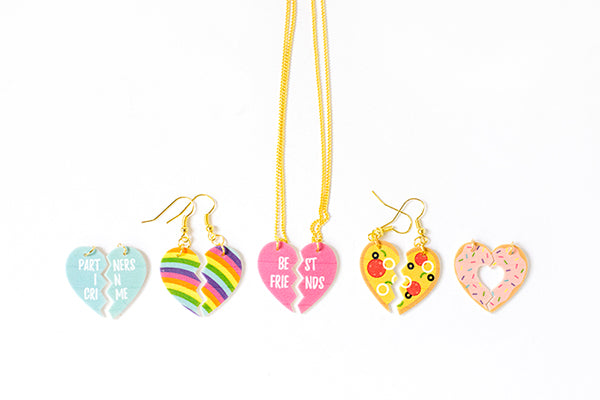 Skip the valentines and enjoy your time together by pampering yourselves with mani-pedis. You can create super cute designs or experiment with charming techniques. Once your nails are done drying, get even more creative by making the most darling best friend shrink plastic jewelry. You and your besties can give each other halves to the heart so everyone knows you're attached at the hip (and heart).
There are so many options for pretty delicious Galentine's Day desserts. These sassy cookie cutters make the *perfect* treats for you and all your single ladies.
Get classy and try this recipe for sparkling pink lemonade mocktails. Pour them into a plastic flute from the party store and add a stick of rock candy on top for decoration.
Once the night is over and it's time for your gals to go home, send them on their way with a little care package so they know you'll always be there for them. Next time you're at Target, grab a few EOS Lip Balms or your favorite lip treatment and print or make a cute card to attach to the lip product that says, "You're the balm."
Or include a lollipop in their swag bag. Write "My life would suck without you" on a tag and attach it to the stick of the candy. Funny and cute. You can also try these DIY heart-shaped bath bombs that are incredibly easy and super trendy. If you don't have time to make them yourself, swing by your local Lush store. Word has it, they have a limited edition pastel unicorn bubble bar for the best smelling bubbles! *swoon*
What are you doing with your girls for Galentine's Day? Share your plans with us in the comments!
Photo credit: Pretty Designs, Pinterest.
POSTED IN fun stuff, holiday, valentine's day, V-Day party, V-Day gifts, V-Day dates, V-Day crafts, V-Day fashion, V-day treats, crafts, jewelry, party, diy gifts, weekend fun, party ideas, sleepover, DIY party decor, lifestyle, holiday, MAKE IT CUTE, Parties