MAKE IT CUTE
Recipes
We're *obsessed* with this no-bake s'mores cheesecake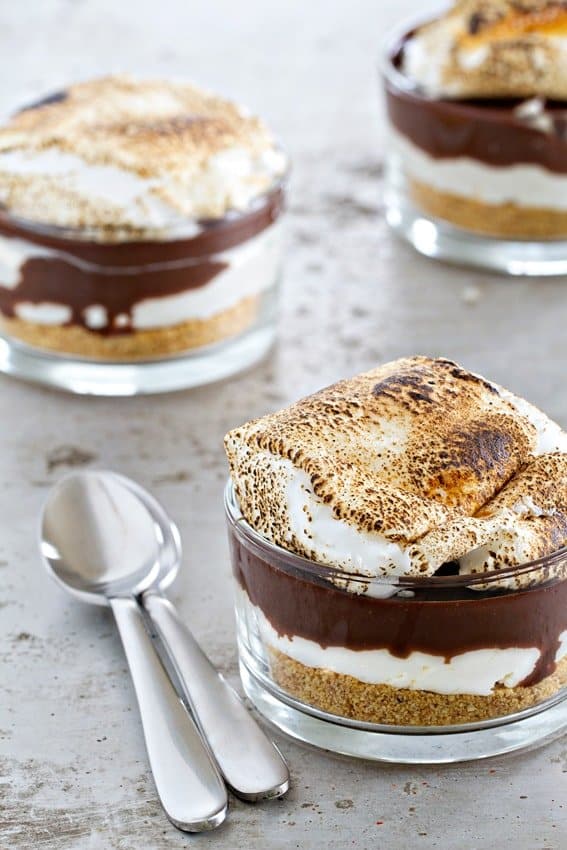 Calling all chocolate-lovers! This s'mores cheesecake is topped with gooey chocolate ganache and a roasted marshmallow, making it dessert perfection for even the laziest of girls (no baking required!). This recipe makes 6 servings so it's a great sweet snack for a sleepover with your besties.
Crust:
- 1 cup graham cracker crumbs
- 1 tablespoon granulated sugar
- 4 tablespoons of melted butter
Cheesecake filling:
- 25 marshmallows
- 8 oz cream cheese
- 1/4 cup confectioner's sugar
- 1/2 teaspoon vanilla extract
- 8 oz container of frozen whipped topping (thawed)
Ganache:
- 3 oz semisweet chocolate, chooped
- 3 oz heavy cream
Topping:
- 6 roasted marshmallows
Directions:
1. Stir together graham cracker crumbs, sugar and melted butter in a bowl. Then, evenly distribute the mix between six serving dishes and press into the bottoms of the dishes to form the crust layer. Toss these in the fridge while you work on the cheesecake filling.
2. Place 25 marshmallows into a microwave-safe bowl and in the microwave for 45-60 seconds. Use a spatula to stir the melted marshmallows until they are smooth and then set them aside.
3. Whip cream cheese with an electric mixer for about two minutes in a large bowl. Then, stir in the confectioner's sugar and vanilla and beat the mix for an additional minute. Next, add the melted marshmallow to the cream cheese mixture and mix for another minute. Then stir in the whipped topping with a rubber spatula.
4. Using a spoon, scoop the cheesecake filling on to the graham cracker crusts and place them back in the fridge while you make the ganache.
5. Add the chopped chocolate to a heat-safe bowl. Bring cream just to a boil over medium-high heat and pour it over the chocolate and let it stand for five minutes. Then whisk to combine. Spoon the ganache onto the cheesecake layer and place back into the fridge until you are ready to eat.
6. Just before serving, top each cheesecake with a toasted marshmallow and enjoy!
What's your favorite cheesecake flavor? Share in the comments!
Like this? You'll love these, too...
+ 10 things *every* girl needs in her closet
+ All the hilarious memes you'll only understand if you have a crush
+ The step-by-step guide to stop stressing out
Recipe credit: My Baking Addiction.
POSTED IN MAKE IT CUTE, Recipes