MAKE IT CUTE
DIYs
Fab up your planner with these dreamy DIYs
Back to school is sneaking up around the corner. And as busy girls, it can be hard to keep track of all of the math tests and sports games that are coming your way this fall. Follow some of our top tips to add some personal organizational touches to your planner so you can rock your schedule like a #girlboss.
Pick a word or phrase for the year.
Choose a good word or quote that will remind you of your goals for the year (it could be something serious or even silly). Afterwards choose a page towards the beginning of your new planner and decorate it using anything you want—paint, stickers, scrapbook paper, get creative. Having this bright page in your planner will help to motivate you when you're cramming for that chem quiz or even pulling together last minute details for that English project.
Color code.
Opening up your planner to a brightly colored calendar has a way of making your to-do list a little less daunting. Pick different colors for important dates, like tests, and even weekend sleepovers with your besties. Make it fun for yourself and use your favorite colors. You can use gel pens, highlighters, Sharpies or colored pencils.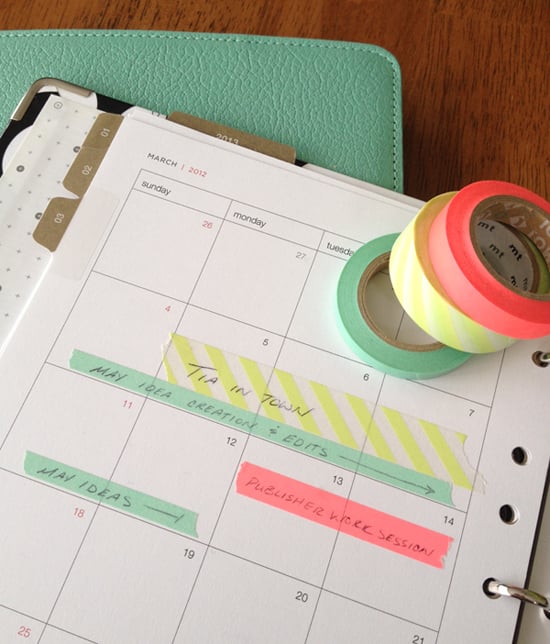 Stick it on.
Washi tape is a great way to block out chunks of time in your calendar. Mark when winter and spring break are so you always have a reminder of something to look forward to. It's easy to write on and it comes in bold and bright patterns to add a little extra color to your bland calendar.
Be a kid again.
Stickers aren't just for kids anymore! Get some motivational ones and put them all across the pages of your planner. Every time you open up your planner, you'll have inspo to encourage you to continue to work hard and pursue your goals. You can also just use cute reminder stickers (like these from ban.do) to add some flair.
Leave a note.
Post-it notes in your planner are an easy way to jot down important reminders, goals and to do lists. Get some in pretty colors to brighten up your pages—you can even use them to write for silly quotes from your BFF or self affirmations as pick-me-ups when you're stressed. Don't have any Post-its laying around? Just cut up some colored paper into smaller squares and use that instead.
How do you fab up your planner? Share your secrets below!
Photo credit: Geraldine Jayne.
POSTED IN healthy you program, sports, LIFE, School, All About You, crafts, diy, diy gifts, summer crafts, get organized now, express yourself, MAKE IT CUTE, DIYs, grades, boost your grades, ace final exams, get all A's this year, home school, college 101, back to school, first day back, girl power