BOOKS
Rad Reads
*Win* a beach book every day in June!
School's (almost!) out for summer—time to bring on the bikinis, beaches and, most importantly, books. And we've got *just* the lineup of must-reads to take your vacay reading list to a whole new level. The best part? We're giving away a different book every single day for the month of June. Scroll down to check out all our picks—and find out when you can enter to win each of them.
To score these sizzling summer reads, simply bookmark this post and check back each day for the link—each link will only be available for 24 hours (!!) so make sure you don't miss it. Or, look for the special Beach Blanket Book Club box on every page of our website (find it right underneath the poll). Good luck!
Grand Prize
One lucky girl will score the ultimate summer stash: a bag of fab reads from Disney Publishing along with a trendy tote to pack those pages! CLICK HERE to enter all month long.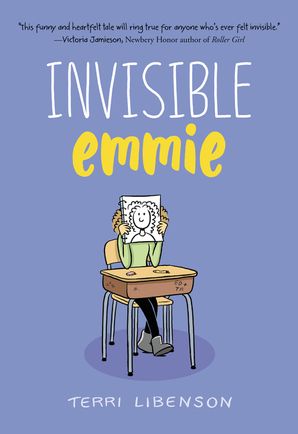 June 1: Invisible Emmie
By Terri Libenson • Balzer + Bray
bit.do/InvisibleEmmie
Crushes, humiliation, drama...middle school. This is the story of two totally different girls and how their lives unexpectedly intersect one day when an embarrassing note falls into the wrong hands... CLICK HERE to win it!
June 2: Gabby Garcia's Ultimate Playbook
By Iva-Marie Palmer • Katherine Tegen Books
bit.do/GabbyGarcia
Gabby is having her best season ever. After transferring to a new school, will Gabby keep her winning streak alive? This funny all-star pitcher has a plan to keep her champion status intact—and every step is written out, play by play. CLICK HERE to win it!
June 3: Ella Enchanted
By Gail Carson Levine • HarperCollins
bit.do/EllaEnchanted
Celebrate 20 years of Ella Enchanted. At birth, Ella receives the "gift" of obedience, forcing her to obey any order. But strong-willed Ella refuses to accept her fate and embarks on a quest to break the curse forever. CLICK HERE to win it!
June 4: The Lost Kingdom of Bamarre
By Gail Carson Levine • HarperCollins
bit.do/LostKingdom
Perry always thought she was a Latki-born royal. But when a fairy reveals that she is actually Bamarre, like the castle's servants, it's up to Perry to free her people from her adoptive father's tyranny. CLICK HERE to win it!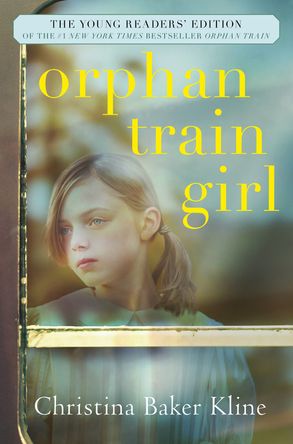 June 5: Orphan Train Girl
By Christina Baker Kline • HarperCollins
harpercollins.com
A bond of friendship, forgiveness and new beginnings. CLICK HERE to win it!
June 6: Being A Witch, And Other Things I Didn't Ask For
By Sara Pascoe • Trindles and Green
bit.ly/beingawitch
On the run from foster care, Raya discovers she has powers when she travels back in time to 1645 England. After being arrested for witchcraft, another sorceress comes back to save her. But with Raya's powers still out of control, they land in the most amazing empire ever. So...now what? CLICK HERE to win it!
June 7: It Started With Goodbye
By Christina June • Blink YA Books
bit.ly/ISWGBook
Tatum Elsea's summer has gotten off to a rough start, but neither strict stepmothers nor community service will keep Tatum from chasing her dreams—especially when those dreams involve starting a graphic design business and getting a first date with a smart and funny musician who may just be her Prince Charming. CLICK HERE to win it!
June 8: Toward A Secret Sky
By Heather Maclean • Blink YA Books
bit.ly/SecretSky
"Everywhere I go, I leave a trail of dead bodies. My parents died fighting to stop the darkness. I'll keep fighting too, even if it means I have to die. Dying's not half as hard as being left behind, anyway...evil is real. We are at war. Anyone who tells you differently is lying." CLICK HERE to win it!
June 9: Let's Be Real
By Natasha Bure • Zondervan
letsberealbook.com
A real life is the best life. Whether it's breakouts, boyfriends, faith, stress or having fun, Natasha's view is to simply be honest and simply be real, no matter what you face—including life's roadblocks.
CLICK HERE to win it!
June 10: The Lost Girl Of Astor Street
By Stephanie Morrill • Blink YA Books
bit.ly/LostGirlAstor
In this jazz-age mystery, Piper Sail searches the dark underbelly of 1920s Chicago to solve the suspicious disappearance of her best friend. CLICK HERE to win it!
June 11: Botanical Beauty
By Aubre Andrus • Switch Press
bit.ly/botanicalbeautyGL
Grab your girlfriends for a spa day at home! This clean beauty guidebook includes 80 recipes for safe and healthy treatments using natural ingredients like beeswax, essential oils, avocado and coconut oil. Whip up a chocolate mousse face mask or vanilla coffee lip scrub—you'll be glowing in minutes. CLICK HERE to win it!
DreamWorks Spirit Riding Free © 2017 DreamWorks Animation LLC. All Rights Reserved
June 12: DreamWorks Spirit Riding Free: The Adventure Begins
By Suzanne Selfors • Little, Brown Books for Young Readers
bit.ly/spiritridingfree
New from best-selling author Suzanne Selfors, DreamWorks Spirit Riding Free: The Adventure
Begins tells the story of Lucky Prescott, a city girl who's just moved out west, and the wild
stallion she befriends. Equally out of place, but equally fierce and brave—will these free spirits find
their place in the west? CLICK HERE to win it!
June 13: Royce Rolls
By Margaret Stohl • Freeform Books
bit.ly/royce_rolls
After five seasons on her family's reality show, Rolling with the Royces, Bentley Royce wants out. But when her future brother-in-law's car goes over a cliff with both Bentley and her sister's fiance inside—on the day of the big made-for-TV wedding, no less—things get real. Really real. Like, not reality show real... CLICK HERE to win it!
June 14: The Takedown
By Corrie Wang • Freeform Books
bit.ly/GLTheTakedown
Who would you rely on if your tech turned against you? Kyla Cheng—president of her community club, a debate team champ, dating the yummy Mackenzie Rodriguez and the most popular student at her Brooklyn high school—gets taken down a peg when a fake video goes viral. CLICK HERE to win it!
June 15: Wildman
By J.C. Geiger • Hyperion Teens
bit.ly/GLwildman
"How can a total stranger understand you better than the people you've known your entire life?" When Lance's '93 Buick breaks down in the middle of nowhere, he finds himself drifting further from home...and closer to a girl who makes him feel a way he's never felt before: like himself.
CLICK HERE to win it!
June 16: Rise of the Isle of the Lost
By Melissa de la Cruz • Disney Hyperion
bit.ly/RiseOfTheIsleOfTheLost
In this chapter of the #1 New York Times best-selling Isle of the Lost series, Mal, Evie, Carlos and Jay face their biggest challenge yet as a rotten villain from their past returns. They'll have to do everything in their power—good and evil—to keep Auradon safe. CLICK HERE to win it!
June 17: Detention Land
By Susan Orion • Bookbaby
susanorion.com
High school is a prison sentence for this teen genius. Trapped in a room full of clever lies, unlikely confessions and a whole lot of lip, the only way to escape is by uncovering the truth. Four walls, two voices...one chance. Who is the woman behind the wall? Solve the puzzle, save the boy. This is Detention Land. CLICK HERE to win it!
June 18: Dream Me
By Kathryn Berla • Amberjack Publishing
bit.ly/dream_me
Babe's dreams of the perfect guy, Zat, seem so real that she begins to question whether they could be something more. Zat, a dreamer from a time in the distant future when humans no longer dream, risks everything to travel back in time and live in Babe's visions. But can the dream become reality?
CLICK HERE to win it!
June 19: The Girl Who Could Silence The Wind
By Meg Medina • Candlewick Press
candlewick.com/silencethewind
Sixteen-year-old Sonia was born on the night of the worst storm Tres Montes had ever seen. And when the winds mercifully stopped, an unshakable belief in the girl's protective powers began. Sonia knows she has no special gifts, but how can she disappoint those who look to her for solace?
CLICK HERE to win it!
June 20: A Thousand Salt Kisses
By Josie Demuth • Wise Ink
bit.ly/saltkisses
During a midnight swim with friends, 17-year-old Crystal White is pulled out to sea. Convinced she's going to drown, Crystal is rescued by Lyr—a handsome and mysterious stranger. Captivated, she searches for him in the following weeks, only to discover that there may be more to local legend than she thought. CLICK HERE to win it!
June 21: Violet Grenade
By Victoria Scott • Entangled Teen
bit.ly/VioletGrenade
Domino: a runaway with blood on her hands. Cain: a silent boy about to explode. Madam Karina: a woman who demands obedience. Wilson: the one who will destroy them all. Discover the book that New York Times #1 best-selling author Lindsay Cummings called "an utterly unique, utterly wicked read!" CLICK HERE to win it!
June 22: The Battlemage
By Taran Matharu • Macmillan
fiercereads.com/books/summonerseries
Fletcher can summon demons. But can he win the war? CLICK HERE to win it!
June 23: You Don't Know My Name
By Kristen Orlando • Macmillan
swoonreads.com
Fighter, faker, student, spy. Ready to join the Black Angels? CLICK HERE to win it!
June 24: The Traitor's Kiss
By Erin Beaty • Macmillan
read.macmillan.com/mcpg/the-traitors-kiss/
A girl, a soldier and a kingdom on the brink of a war. CLICK HERE to win it!
June 25: Spill Zone
By Scott Westerfeld • Macmillan
us.macmillan.com/series/spillzone/
In the Spill Zone, danger awaits—and it's calling for Addison. CLICK HERE to win it!
June 26: Carmer and Grit
By Sarah Jean Horwitz • Algonquin Young Readers
bit.ly/thewingsnatchers
In the first novel in the nail-biting Carmer and Grit series, a magician's apprentice and a one-winged faerie princess must journey through a magical wooded fairyland to city streets. There, terrifying mechanical monsters lurk in the shadows...and a mad scientist's newest invention might be more menace than miracle. CLICK HERE to win it!
June 27: Let's Pretend We Never Met
By Melissa Walker • HarperCollins
bit.do/letspretend
After Mattie moves from North Carolina to Pennsylvania, she becomes fast friends with her new neighbor. But once they start school, Mattie realizes that Agnes is known as the weird girl who no one likes. Is fitting in worth ending her new friendship? CLICK HERE to win it!
June 28: Speed of Life
By Carol Weston • Sourcebooks
carolweston.com/thespeedoflife
Sofia thinks her life is over when really it's just beginning. CLICK HERE to win it!
June 29: Choose to Matter
By Julie Foudy • Disney
disneybooks.com
In Choose to Matter, Julie Foudy—two-time Olympic gold medalist and former captain of the U.S. national soccer team—helps you discover your authentic self by owning your awesome. This book is a road map to unleash that courageous you...and have you singing your dreams out loud.
CLICK HERE to win it!
June 30: The Misadventures of Max Crumbly
By Rachel Renee Russell • Aladdin Books
simonandschuster.com/books
Join Max Crumbly for the ups and downs of middle school. CLICK HERE to win it!