STYLE
Fashion
Slip into these dreamy dresses for Easter Sunday
Gone are the days of stiff pastels and itchy collars—this Easter, you can rock an ensemble that looks *and* feels good. Not to mention, we've found adorable outfits for every budget and body type. These elegant dresses are the perfect way to show off your unique sense of style while you're celebrating with the fam. Check them out below!
Nude Embroidered Bodycon Dress, $73
Nothing says elegance like this tulle-embroidered bodycon dress. Not to mention, it can *totally* double as a prom dress.
Plus Patterned Floral Dress, $30
This adorable dress is chic with a hint of whimsy. Slip it on for a fun play on florals and a modest-yet-cute Easter look.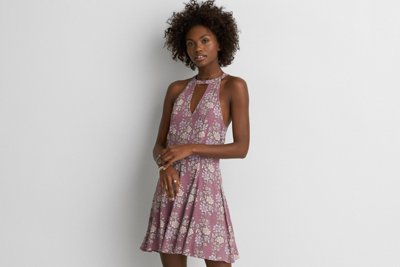 Mauve Floral Keyhole Dress, $25
Keyhole dresses are *everything* this season, and this mauve piece screams spring. Show a little skin this Easter with this gorgeous floral dress.
Plus Lace A-Line Dress, $48
A whimsical take on the classic A-line dress, this lacy piece is perfect to wear at Easter brunch. The unique floral lacing makes it a subtle eye-piece.
Light Blue Floral Dress, $29
Talk about unique: The simple silhouette on this dress ensures all eyes will be on the lovely, vibrant pattern. Take florals to a new level with this awesome dress.
Plus Shirt Dress, $89.99
T-shirt dresses will always be in, and this busy pattern is everything but an understatement. The bright colors are sure to make your look pop at any family gathering.
What do you think of these dresses? Do you have any Easter traditions? Let us know in the comments!
Like this? You'll love these, too...
+ Meet the geode hair trend that's about to be everywhere
+ 11 stylish unicorn products that will make every girl feel magical
+ Break these 5 habits to be a happier person
Photo credit: Instagram.
jump to comments