FAB UP YOUR LIFE
Recipes
This mummy treat is what your breakfast is missing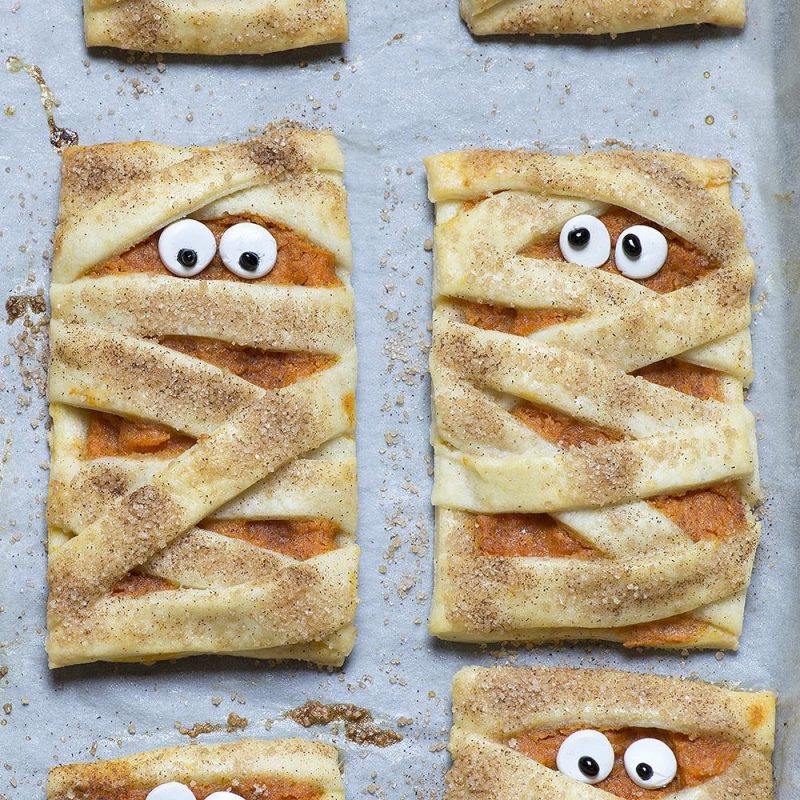 Chances are, Pop-Tarts were one of your fave childhood breakfasts. And maybe they still are (no shame!). Regardless, while we love popping 'em out of the box for a quick bite, the homemade version is *so* much better. Plus, you can decorate them however you want—like wrapped up in strands of dough for a mummy must-make. Try the recipe below for a spooky snack.
Ingredients:
- 1 package of refrigerated pie crust (aka 2 crusts)
- 3/4 cup pumpkin puree (press with paper towel first to drain excess water)
- 2 oz cream cheese
- 2 tbsp light brown sugar
- 2 tbsp sugar
- 1 tsp cinnamon
- 1/2 tsp ground ginger
- 1/4 tsp nutmeg
- 1/8 tsp allspice
- 1/4 tsp vanilla extract
- 1 egg yolk
- 1 egg white, lightly beaten
- 1/2 tbsp water
- 2 tbsp sugar
- 1 tsp cinnamon
Directions:
1. Preheat oven to 375 F. Combine cream cheese, sugar and brown sugar in a bowl. Then add in pumpkin puree, cinnamon, ginger, nutmeg, allspice, egg yolk and vanilla extract.
2. Roll out the two pie crusts into two large rectangles. Cut one crust into smaller rectangles (make them as big or as small as you'd like). Cut the other into 1/2 inch strips.
3. Spread 1 1/2 tbsp of your filling on each rectangle. Brush the edges with the combo of your egg white and water. Lay the strips across the top and press to seal edges with your fingers (trim any extra dough from the strips).
4. Brush the tops with your egg white and water and sprinkle with cinnamon sugar.
5. Bake for 20 minutes until golden brown.
What's your favorite flavor of Pop-Tart? Tell us below!
jump to comments