FAB UP YOUR LIFE
DIYs
Real chalk: Personalize *all* of your BTS supplies with these DIYs
Back-to-school shopping is *so* fun (brand new notebooks, snazzy backpacks, #OOTD essentials). But when everyone is shopping at the same few stores, you run the risk of showing up on the first day with the same planner as your two BFFs—yikes. How will you know whose is whose?!
Enter chalkboard tape, aka every girl's must-have personalizing partner. You can use it to customize anything and everything—so not only will your school supplies look straight off of a Pinterest board, but you'll always know which notebook is yours. (It's the cutest one in the classroom, obvs.)
Below are our fave DIYs using Duck Brand Chalkboard Tape that will add a pretty and personal touch to make your haul, well, hall-ready.
Save the date
'Tis the season of slammed schedules. From cheer tryouts to study group to your weekly Chipotle date with your best friend, it's tough to keep track of where you're supposed to be at what time. And because plans can change in an instant, this DIY chalkboard calendar makes it easy to adjust.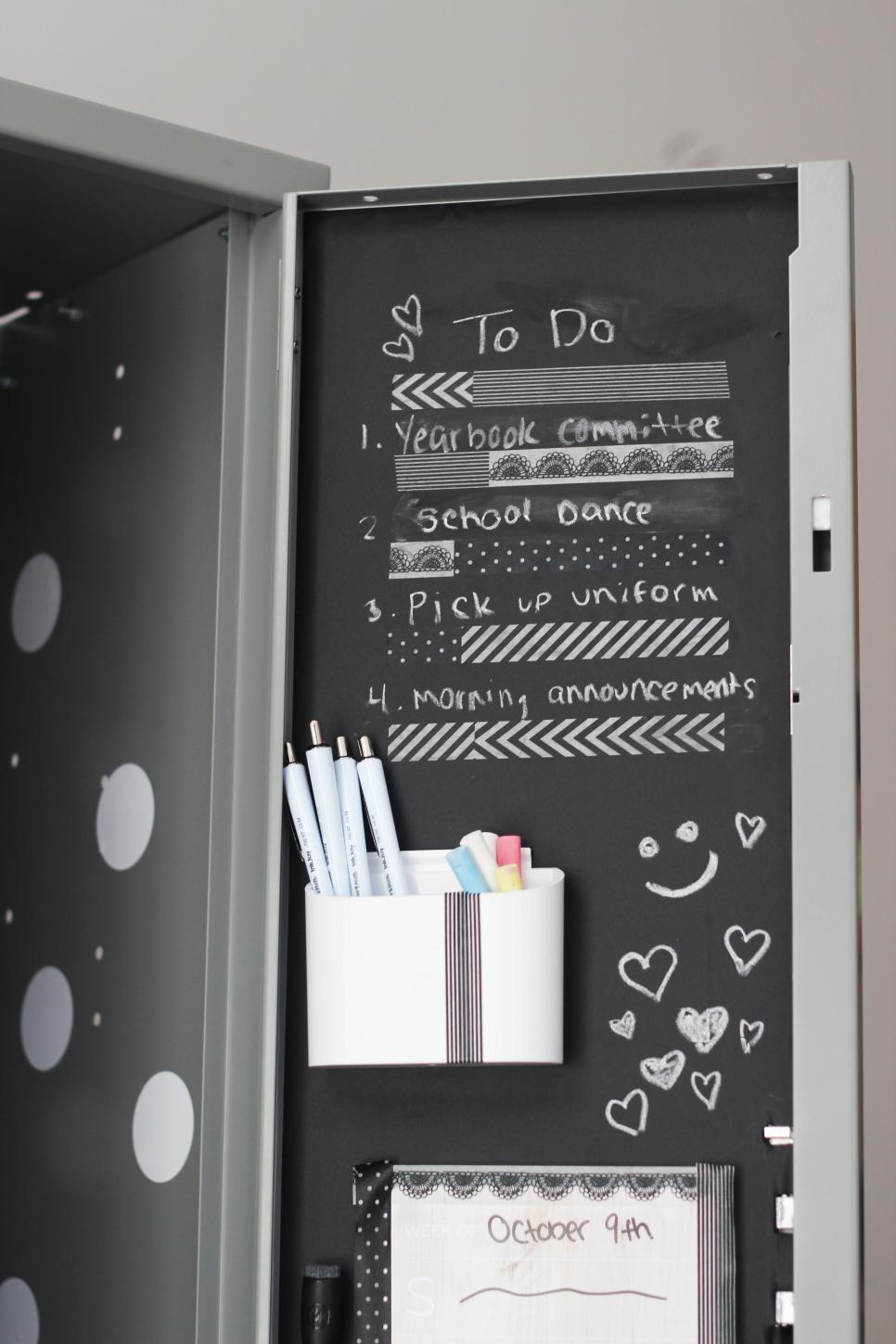 Love your locker
Your locker is your #1 in-school hangout spot—it's where you stash all your supplies, catch up with your girls before homeroom and occasionally find a note from your sweetie. To make it more functional (and fab), turn the entire inside of the door into a chalkboard with Duck Tape—your daily to-do list just got a *lot* cuter.
Cover it up
There are so many adorable ways to decorate a plain notebook that it can be hard to choose...but now you don't have to. Cover the front of your journal with strips of chalkboard tape for a totally trendy—and totally temporary—vibe. You can doodle little designs, write song lyrics or even ask your artistic bestie to draw a pretty pattern.
Label your loot
Having a separate binder for each class is a smart organizational hack—but it also can get super confusing. Keep things straight (and avoid accidentally grabbing the wrong binder!) by sticking a piece of chalkboard tape on the spine. The best part? You can reuse the same binder for next semester, too—just wipe off "Science" and replace it with "French." Voila!
Smarten up your storage
Getting prepped for BTS is more than just stocking up your backpack—it's also decluttering your desk. Fill empty containers with all of your homework essentials (use jars or bins for bigger items), then cut a piece of Duck Brand Chalkboard Tape for the label. An organized desk is *key* for snagging straight A's, after all.
How will you be personalizing your school supplies this fall? Share your DIY tips below!
Photo credit: HGTV, Making Home Base, Pinterest.
jump to comments